Running is in Shannon Osika's blood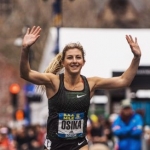 May 27, 2020
"I love it. I mean, to be amongst so many talented and hardworking women and to be one of them feels really good."
By Sieg Lindstrom, Track & Field News
Spring of 2020, now heading into summer, has manifested itself as a train-and-wait game for athletes. The pandemic "why" of that is no secret. Shannon Osika, 2019's #6 U.S. Ranker in the 1500 / Mile who PRed big with a 4:01.80 win to wrap last season, is rolling with the postponement reality. It's not like she or any Miler has a choice, but the '16 Michigan grad has the advantage of having viewed her career as a long but determined journey well before she even started her prep career at Mott High (Waterford, Michigan) back in '09.
It helps that the 26-year-old Osika is part of a running family. Her parents competed as middle distance runners for Eastern Michigan in the 1980s and put up national class 1500 PRs. Father P.J. Osika raced 3:41.39 in '87 and mom, Andrea Bowman, ran 4:18.27 that same year. Both competed in the '88 U.S. Olympic Trials.
"It's definitely in my blood," says Shannon, who herself made the OT semis in '16. "I mean, at this point in my life I don't really know much different. From Day 1, you know, my parents were still running, not competitively, but recreationally. So I saw them get out the door almost every day, and then eventually I'd go with them for a couple miles and just really fell in love with it.
"Even in elementary school, just having the running clubs and everything, I found I had a real passion for it. And it's funny because I've just always wanted to be a professional runner. Even in elementary school, which I feel like is rare for people to even know that's an option.
"I had my eyes on it for a while. So it feels very surreal to be achieving that. It's just practicing patience throughout it all and having confidence that I'll progress. I've definitely had times where I felt my times were stagnant.
"For example, freshman year in high school I ran a 4:52 Mile and I actually never got faster. I ran 4:52 all four years. So there were other improvements, but sometimes I would kind of be at a stand still, but just always knew that I would get there. So just having that confidence, having that patience, that's been key. And the support as well.
"You know, my parents having gone through elite running and everything, they knew how to talk to me and keep me motivated. So I feel like that's really been helpful because it's paid off. Even hitting that PR was huge. So I feel really grateful."
Osika won't deny "there were times where it was a struggle, but at the same time I was still having success." So she kept working. Her older sister Alyssa ran track at Ferris State, younger brother Tommy competed for Michigan State and her youngest sibling, Katie, is a current Spartan frosh. But following high school graduation in '12, Shannon headed to Michigan and the stewardship of associate head Mike McGuire, her coach to this day.
"I feel like coach McGuire was a good fit for me," says Osika, who trains in the Wolverine coach of 30 years' unofficially named True Blue Elite group. "He wasn't one to micromanage. I liked the flexibility of it, the freedom but still having that accountability. Coming to Michigan was a really good fit for me, and then I just kind of blossomed from there. So yeah, I had my struggles. It's not easy just to stay stagnant for a bit but I knew that there's a long road ahead. Especially because from early on I did want to go professional, so I just kinda knew, 'OK, it's not happening now, but I have a lot of time to get there.'"
Continue reading at: trackandfieldnews.com
NOTE: The sixth in a series of TFN event-focus articles on the U.S. women's 1500, an event on a hot streak and one in which we expect to see fierce-fierce racing when the competitive trek toward the Tokyo Olympics resumes.