Running, Racing, Cameron Bean: Life Lessons 2015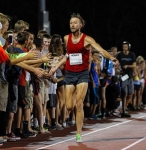 November 12, 2015
That's the last thing I want to do this year is waste it because that's not how you honor your friend who lived life with no excuses.
By Brandon Hudgins
You can't separate out your life no matter how hard you try. Just as I was beginning to process all the craziness of this year and prepare for next year, my world was upended by the loss of one of my best friends and training partner Cameron "Cron$ity, Magnum" Bean. This blog was supposed to be a recap of the highlights of my most exciting season of racing, but before I knew it all I could write about was memories with Cameron. One thing I have learned over the last 8 years of my tumultuous life and running career, is that you can't separate life out into different categories, they all end up affecting the other, despite how hard you try sometimes. As much as I have tried at times, they are too intertwined. So the only justifiable way to write this blog is to intertwine the ups and downs of a great year that ended tragically.
This year was by far the best and most consistent year of my post-collegiate running career. Not only was I able to compete well in every race that I was in this year, but I ran my first sub-4 minute equivalent in May with a 3:42 showing for 1500m and then running my first official sub-4 minute Mile (3:59.67) in August this year. In addition, I managed to notch my first top 10 finish at a USATF national event, the USA Road Mile Championships, and didn't finish outside the top 10 in any race this year.
With almost a year of health (no auto-immune related issues) I really started to enjoy competing again. The most exciting part of the season was being able to be apart of the of the best grassroots races in the country, the St. Louis Festival of Miles, Sir Walter Miler and the inaugural HOKA ONE ONE Long Island Mile (above right). Everyone of these races brought between a 1,000 and 2,000-plus people to watch a bunch of skinny guys and girls run in a circle. These races are making new fans of the sport every single year. Which is exactly what the sport of track & field needs. My last 4 races in July, August and September, were my best of the year. I beat loads of people with better credentials, more resources and more experience. But unfortunately my worst race of the season turned out to be the one that feels much different months later.
Continue reading at: http://bhudgnasty.blogspot.com