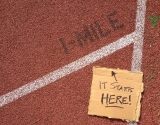 June 15, 2019
"Everybody at some point in time has run a Mile, whether it was in middle school or high school gym class. And it's something that everybody understands."
By Eddie Wooten, News & Report
"How fast can you run a Mile?"
How many times have you been asked that?
Here's a chance to find out in...
Read More
comments