Brandon's Most Excellent Year!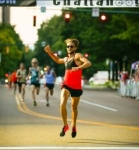 September 24, 2016
I would say my biggest victory this year has been not been on the track but in my own mind.
By Brandon Hudgins
Wow, I can't believe that the 2016 season is already over. Seems like just a few weeks ago I was writing my 2015 recap and looking forward to the 2016 Olympic season. So what all has changed since September of 2015? Well just like last year, everything and not much at all. 2016, just like 2015, was my most successful to-date. Here are a few highlights of the racing season: PRs at 1500m & 3000m, Top 5 finish at USATF Road Mile Championship, runner-up finish at Penn Relays, Top 25 time in the USA at 1500m, Olympic Trials Qualifier at 1500m, and a Olympic Trials Semi-Finalist. More important than all of these meaningless marks, was the formation of #TeamBrandon and the #VictoryOverVasculitis campaign with the Vasculitis Foundation.
This year, like so many in the past, has been a ferocious roller coaster. While writing this piece I stumbled on an analogy to describe my past few years. 2014 and 2015 riding a roller coaster I had never seen before. I was basically a kid on a coaster that I was barely old enough to ride, so my head was banging around in the restraints. In 2016 I strapped myself in for another ride, but this time I'm a little taller, a little more prepared for the sharp turns, fast descents and learned to hang on to the straps in those tough loop de loops. The year wasn't void of struggles, I was just better prepared to handle the intensity of the year. It may have seemed from the outside that the season was a giant success, and it was, but the fall from accomplishing one huge goal and missing another hurts.
Continue reading at: http://bhudgnasty.blogspot.com