Sahlman Joins HS Sub-4 Club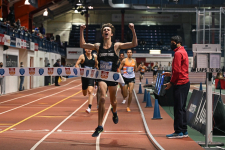 February 06, 2022
"I always wanted to break 4, but as soon as I saw those guys coming back a little bit I was like, I might as well just try to go for the win here."
By Rich Sands, Track & Field News
NEW YORK — Many of the all-time fastest high school boys Mile races have come in professional races, which usually means the achievement is somewhat overshadowed by a middle- or back-of-the-pack finish.
But Californian Colin Sahlman of Newbury Park's high-power program, joined the exclusive prep sub-4 club in emphatic fashion, storming past a field of pros and collegians to win the invitational race at the Dr. Sander Invitational on Saturday, Feb. 5. Sahlman broke the tape in 3:58.81, which puts him #3 on the U.S. high school all-time indoor Mile list (and #5 indoors or out).
The talented senior tucked into the pack for the early laps, and was just 8th at halfway. He then steadily moved up, and coming off the penultimate curve he blasted out of traffic and took the lead by 1500 (3:44.05, moving to #5 on the indoor all-time list).
His final lap of 27.79 was too much for the field, and Sahlman finished well clear of runner-up Eric Holt (4:00.01). "I always wanted to break 4, but as soon as I saw those guys coming back a little bit I was like, I might as well just try to go for the win here," said the Northern Arizona-bound Sahlman, whose previous best was an outdoor 4:04.86 from last March.
The field also included 2016 WIC 3000 silver medalist Ryan Hill (4th, 4:00.39) and 2017 U.S. 1500 champ and Rio Olympian Robby Andrews (5th, 4:01.15). Said Sahlman, "Honestly I didn't even look at the entries before I came to this race. I was like, 'I just want to do the best that I can. It doesn't matter who's in there, it's just what I want to do.'"
He stepped onto the track inspired by the performances of two of his teammates in the 3000 a short while earlier. Lex Young, a Newbury Park junior, just missed the high school record of 7:56.97, clocking 7:57.06 for 4th, while Sahlman's younger brother Aaron was 8th in 8:01.72.
Continue reading at: trackandfieldnews.com