She's his Fair Lady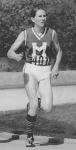 February 26, 1979
Olympian Jan Merrill, America's outstanding middle-distance runner, is schooled by her very own Professor Higgins
By Anita Verschoth, Sports Illustrated
One of Jan Merrill's prized possessions is a cartoon she received from a friend last fall. It shows a woman runner, whose severe features are unmistakably Merrill's, facing a man with a press badge. "You know, I can really relate to what you're into," the reporter is saying. "I jog too!" Now 22, Merrill is the best woman middle-distance runner in the U.S.—she holds American records at 1500 and 3000 meters—and the best in the world when it comes to not talking about herself or her races. Her contempt for reporters is almost as legendary as Jackie O's for paparazzi. While her fellow competitors talk to sportswriters after a race, the 5'6" Merrill is likely to duck behind her 6'3" coach, Norm Higgins, and head for the nearest exit.
After Merrill won the 1977 Women's AAU Cross Country Championship in San Bernardino, Calif., Higgins announced that he would "allow" the press exactly 10 questions. The final question to Merrill was: "Why won't you speak to the press more?" "No comment," interjected Higgins, answering for his charge, which is not at all unusual. In fact, on those rare occasions when Merrill does get her say, she will often stop in midsentence and withdraw with a "You'll have to ask my coach."
"You see, we aren't from a big city," says Jan Merrill's mother Josephine, a warm woman who rarely stops smiling. "We're quite unsophisticated. We live a simple life. Still, as a family we're quite verbose—except for Janny. She was always quiet. She would never insist on making her point. As for Mr. Higgins, with him I can never get a word in edgewise."
Hardly anyone can. "People think we are isolated," Higgins says of himself and Jan, "but we're not. It's all artificial. We live in a nice community where people are friendly and kind of old-fashioned. When we get to New York or the West Coast, we find that people there lead a different kind of life. You know what I mean? After a meet, I want Jan to get home as quickly as possible, so she can be in her own environment."
Home for Janice Melbourne Merrill is a comfortable wood-paneled house in Waterford, Conn. (pop., 4,400), 200 yards from Long Island Sound. A few miles away are New London and Connecticut College, where Merrill is a senior majoring in math. Scattered throughout the area are wildlife refuges, like Mamacoke Island in the college's Arboretum, sanctuaries where Merrill does much of her training. The nearby Coast Guard Academy has a 200 meter Tartan track for training indoors in winter, and a 400 meter outdoor dirt track.
Between classes, Merrill usually can be found studying in the farthest corner of the Connecticut College library. Bent over a book, she appears almost fragile. Her long brown hair is no longer drawn back severely in a ponytail, as it is when she runs, but cascades softly over her shoulders and back. Nowhere is there a hint of the hard, determined expression she wears when competing.
In similar contrast, Merrill is lively and open in college. In her French classes she converses freely with the teacher and her fellow students. When Higgins asks her to tend his sporting goods store in New London, she is an attentive saleswoman. When she is with her family, she laughs loudly and spontaneously.
Continue reading at: si.com