Silver Medalist Leo Manzano Picks Up Where He Left Off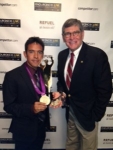 March 01, 2013
By Jennifer Fierro, The River Cities Daily Tribune
AUSTIN, Texas — In many ways, U.S. Olympian Leo Manzano is following the same training regimen that helped him capture the silver medal in the men's 1500 meters at the London 2012 Summer Olympics.
He just returned from San Luis Potosi, Mexico, where he participated in a month of altitude training. Altitude training is an annual commitment for him.
And, he restarted his weight-training program, something he picked up last February.
"It was great to get away and focus on training," Manzano said of his time in Mexico. "It's still very, very early in the season."
He has been training for four to six hours a day in addition to working on his strength.
Continue reading at: dailytrib.com