So Simple It's Brilliant: Schools Worldwide Embrace "The Daily Mile"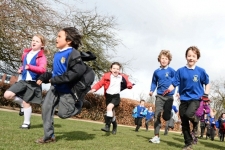 December 20, 2016
A Scottish teacher starts a free, anytime, anywhere program that reduces childhood obesity—and makes kids happy; "This Mile a day will make a difference." - Sebastian Coe, Mile legend & current IAAF President
By Sarah Barker, Runner's World
Elaine Wyllie, headteacher of St. Ninians Primary School, was shocked to see that her students were unfit. A class of 11-year-olds struggled mightily to jog, or even walk, a Mile. Not about to stand by and let the pride of Stirling, Scotland, succumb to crisps, video games and the ravages of obesity, the next day Wyllie's class was outside circling the school grounds for 15 minutes.
They were out there the next day, and the day after that.
That was February 2012, the birth of The Daily Mile. The idea was to improve fitness and social & emotional health and to combat obesity. But equally important to Wyllie—a brisk, no-nonsense woman—was that the program be utterly simple. Fifteen minutes, outside, every day. No gym clothes, no fancy facility, no competition, no rigid schedule, no additional staff, no cost.
"No-brainer" is the response Wyllie said she gets most often about her program.
Like much of the developed world, childhood obesity in the U.K. is considered a public health crisis. Results from a 2014 health survey for England showed that 31.2 percent of children ages 2 to 15 were either overweight or obese, and a 2015 study of 10,000 primary school children in the U.K. found that two-thirds lacked basic fitness.
Continue reading at: www.runnersworld.com