Spirit Run is going to the dogs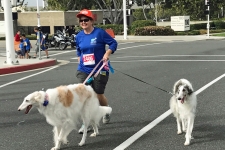 January 22, 2018
Kriser's Dog Mile returns so mark your calendar for Sunday, March 18th and bring your furry friend to the Spirit Run for a morning of fitness, community and fun!
By Stu News Newport
Man's best friend is more popular than ever! It's commonplace to see these four-legged friends shopping, dining and even flying with their humans. But did you know there's a growing trend of human / dog road running teams?
Research reveals that people who walk their pooches are 34 percent more likely to achieve federal benchmarks on physical activity. It also shows that those who walk their dogs have higher overall levels of moderate and vigorous physical activities. It's certainly not uncommon to see owners running with their dogs.
Exercising with humans also benefits our furry friends. As migratory animals, dogs need daily physical activity and enjoy exploring the world around them. It also improves their mood by allowing them to release pent up energy. Running or walking with your dog helps prevent obesity. Sadly, more than 50 percent of dogs in the U.S. are overweight. Read, "Why our Pooches Need Exercise," "Tips for a great Dog Walk" and "Dog Walking Essentials" and others at Kriser Natural Pet's blog: https://krisers.com/blog/
Running events are catering to this trend. Not all runners are aiming for a PR (personal record) in their races. Most want some exercise in a festive setting. And, for dog lovers, it can't get much better than enjoying the morning with their best canine friends.
The 35th Spirit Run is part of the national trend as the annual event is again hosting the Kriser's Dog Mile, set for Sunday, March 18th at Fashion Island. The second edition is open to all ages and ability levels to experience walking or running with your canine friends. Participants have 15 minutes to finish, allowing enough time to jog or walk the course.
Continue reading at: stunewsnewport.com