Statue commemorating Miracle Mile unveiled at Hastings Park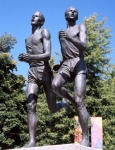 July 14, 2015
The repatriation is part of the Park Board's work to revitalize all of Hastings Park. A celebration of the re-opening will take place Saturday, July 18.
By Justin McElroy, Global News
A famed Vancouver statue was brought a little closer to the location where it was inspired.
The Miracle Mile statue, which commemorates the historic runs by Roger Bannister and John Landy in the 1954 Empire Games, was re-unveiled today at Hastings Park, near Empire Stadium where the run happened.
For decades, the possibility of someone running a Mile under four minutes was considered near impossible, until Roger Bannister achieved the feat in 1954.
Two months later, at Empire Stadium, Bannister and Australia's John Landy both ran under four minutes at the Empire (now Commonwealth) Games, thrilling the crowd at Empire Stadium in Hastings Park.
While a statue to mark the occasion was built in 1967, it had sat at the main entrance to the park at Hastings and Renfrew until last year.
Continue reading at: www.globalnews.ca