Stirling primary school pioneers 'daily Mile' scheme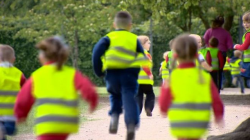 July 05, 2015
A primary school in Stirling, Scotland has pioneered a scheme to ensure all of its pupils walk or run a Mile every day. Teacher's say it is a non-time intrusive way for children to socialize in addition to regular physical education classes.
From BBC
Children at St Ninian's Primary take the daily exercise on a specially built circuit outside the school's playground. The "daily Mile" scheme is credited with improving the health of pupils, and a number of other schools are now looking at copying it. The extra 15 minutes of exercise a day is in addition to PE classes.
Head teacher Elaine Wyllie said the scheme was developed three years ago after a school volunteer realised the children lacked stamina.
She said: "A volunteer in the school said the children weren't fit, and so we decided to test them. We got some of the children to run around the field, but they couldn't - they were exhausted very, very quickly. So we then thought, we have this path around the field, could we actually run them around it a few times and get them fit? We did it with one class, and very shortly all the classes were doing it - it was that simple."
Continue reading at: www.bbc.com