Stockdale's Haney calm ahead of attempt at 4-minute Mile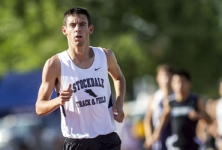 May 31, 2014
"If it's under 4 minutes, that would be incredible...but I'm just looking at it like a big opportunity to run fast. I have nothing to lose."
By Zach Ewing, Californian
EUGENE, Ore. -- It's the fastest, and arguably the most prestigious, race of Blake Haney's budding running career.
He has the added pressure of trying to becoming the sixth high schooler in American history to break the legendary 4-minute barrier in the Mile.
So why is he so relaxed?
"It's kind of nice," said Haney, a Stockdale senior. "My expectations aren't really there; I'm just going to race, and I don't have to worry about winning or setting a pace, the stuff I normally have to do."
The race is the International Mile at the prestigious Prefontaine Classic at Hayward Field in Eugene, OR, and it begins just after 12:30pm. It is scheduled to be televised on NBC Sports Network, with the rest of the meet flipping to NBC at 1:30.
For once, all eyes will not be on Haney, who will defend state championships in the 1600 meters and 3200 meters next week and who is accepted as the best distance runner in Central Section history. Today, however, he will not be anything close to the fastest runner in the race.
Continue reading at: www.bakersfieldcalifornian.com