Students at Plainville's Toffolon School run Mile in historic times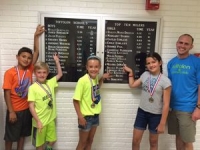 June 21, 2016
"I'm proud of these students. They made a goal and achieved it!"
From The Bristol Press
Four new names have been added to Toffolon School's "Top Ten Milers" Board in Plainville.
The board lists the students with the 10 fastest times for the Mile run in the history of Toffolon School. Students who recently achieved this honor are Reggie Gonzalez, Jamison McGinnis, Brooke Pearson and Amelia Sarra.
Gonzalez tied the all-time fastest Mile run with a time of 5:56.
"I'm proud of these students. They made a goal and achieved it," Toffolon principal Lynn Logoyke said. "Having four students on the board in one year is remarkable since sometimes years go by without a change. I believe our wellness program and (physical education teacher Rob Silliman's) running club, along with the students' hard work, had a lot to do with this success."
Continue reading at: centralctcommunications.com