Sub-4 Minutes Old Hat for Brannen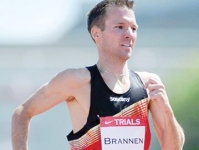 June 10, 2013
By Bill Doucet, The Record
In 1954, Roger Bannister became the first man to run a sub-4 minute Mile.
Nathan Brannen accomplished the same feat 47 years later as a high schooler – only the seventh to do so at such a young age – just beating the barrier with a time of 3:59.85.
Since that day in 2001, Brannen has made a habit of breaking four minutes, doing it indoors in 2005 in Boston and then putting together his best time in Eugene, Ore. in 2009 with a 3:52.63 mark.
The question is: Does Brannen have another sub-4 minute Mile under his belt?
The city will find out on Friday, June 14 when the two-time Olympian takes to the crushed clay track at Galt Collegiate Institute in a bid to get under four minutes as the main event at the Cambridge Classic Mile.
Continue reading at: therecord.com