TD Beach to Beacon adds High School Mile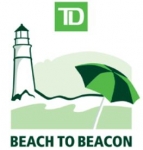 July 30, 2016
Maine's best HS Milers expected at inaugural event on Friday, Aug. 5, the day before 10K
By Michael Kelley, Staff Writer, Scarborough Ledger
Thousands of runners – from world class to weekend warriors – will take to the streets of Cape Elizabeth on Saturday, Aug. 6 to take part in the 19th annual TD Beach to Beacon 10K Road Race, but more than 20 teenagers from across southern Maine will have an opportunity to run a Mile-long segment of the iconic race route.
Scarborough sophomore Harrison Osborne is one of 12 girls and nine boys who have met the qualifying time, which was set at sub-5:00 Mile or 17:30 5K for boys and sub-6:15 Mile or 20:30 5K for girls, to take part in the event's first-ever Mile run Friday, Aug. 5.
Osborne, a member of the indoor and outdoor track team last season, heard about it on Twitter and was intrigued about the inaugural race.
"I was kind of interested in it. I ran the qualifying time of a 5-minute Mile, signed up and hoped I was chosen for it," said Osborne, who will be joining the cross country team this fall instead of another year of soccer.
Continue reading at: leader.mainelymediallc.com