Teare beats Hocker in near U.S. indoor Mile record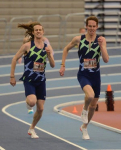 February 12, 2022
"So, we had a little bit of a race strategy with our two pacers in front and then Morgan. He definitely threw in an extra element of adding that race feeling, which is just so awesome and made for a fast race."
By Don Kopriva, Track & Field News
CHICAGO — On Friday night, February 11th when a number of the nation's Milers laid siege to times in the event, newly-minted pros Cooper Teare and Cole Hocker proved the best-of-the-best in a humdinger of a race at Wisconsin's inaugural Windy City Invite.
Teare held off his training mate for the win, 3:50.17 vs, 3:50.35 as they solidified their places as #3 & 4 on the all-time U.S. indoor list. Finishing third was versatile Michigan State senior Morgan Beadlescomb, whose 3:52.03 was a brilliant sub-4:00 debut (fastest U.S. and fastest indoor).
Racing on the new fast 200-meter banked track at Gately Park, the erstwhile Oregon teammates — who still train together under Duck coach Ben Thomas — made a spirited run at the 17-year-old AR of 3:49.89 by Bernard Lagat, who was there watching with his Arizona team.
That they didn't get the record made it no less a race in what was dubbed "The Magnificent Mile" and was just that, easily the fastest ever on Illinois soil. A crowd of some 4,000 oohed and aahed through introductions and the race itself, with the enthusiasm of the largely high school-age crowd stoked by veteran announcer Mike Jay.
Pacers Matt Wisner and James West took the small 5-man field through a slowish 30.44 split for the first 209m, but then picked it up en route to a 58.80 "quarter" with Hocker, Teare and Beadlescomb stringing behind, just tenths back. They went through the "half" at 1:56.99.
Wisner stepped off and West led them through the "three quarters" in 2:54.96 before dropping, and the race was afoot. Teare made his move — a strong confident one with good arm action — on Hocker early on the backstretch with about 300 left, and maintained that edge through the finish. He closed with a 54.96 for the final 400 and 26.69 for the last lap as Hocker was a tick back.
Said the 22-year-old Teare, "I didn't feel fantastic, even right off the rip today, but it's about just staying focused and working towards that goal. You know, you're never gonna feel your best all the time."
"I'd say tonight was like a 9 out of 10," opined the 20-year-old Hocker. "Of course, 10 would be winning and getting the American Record."
The duo's race strategy was simple: count on the pacers and then run fast enough to get the record.
Continue reading at: trackandfieldnews.com
Full race video below