The Mile Interview Series: Steve Holman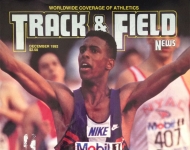 May 14, 2014
Bring Back the Mile's 2014 interview series, presented by HOKA ONE ONE, sits down with 1990s Mile ace Steve Holman. A prep standout in the state of Minnesota, Holman had a HS Mile best of 4:09.26 (converted from a 4:07.62 1600 meters) in 1988, as a senior at Richfield High School, a year that he also won the state title at 1600m. Holman was a 10-time NCAA All-American for the Georgetown Hoyas and won the 1992 NCAA 1500 meter title; earlier this year he was inducted into the Hoya Hall of Fame with teammate Rich Kenah.
As a professional, Holman was coached and mentored by the legendary Frank "Gags" Gagliano. The Reebok Enclave TC member made the 1992 Olympic Team after a runner-up finish behind Jim Spivey and was the fourth ranked and fifth ranked Miler in the world in 1994 & 1995 respectively. Holman won his first outdoor 1500 national title in 1999 (he also was the 1996 USA Indoor Mile champion).
Holman, who has a Mile PR of 3:50.40 (#8 U.S. male all-time outdoors) and metric Mile PR of 3:31.52, both from 1997, currently resides near Philadelphia, PA and is a Principal at Vanguard. He spends most of his running chasing his kids, but when he does get out to punish some training miles, he grabs his HOKA ONE ONE trainers and hits the trails near his home.
Josh Muxen, former Nike Farm Team member and steeplechase standout at the University of Idaho. Josh served for 10 years as the elite athlete director for Bay to Breakers 12K in San Francisco and continues to announce running events throughout the San Francisco area. He has a Mile best of 4:09.30.
INTERVIEW SPLITS
LAP 1 - The Relatability and Resonance of the Mile
0:00:00 - Introduction & Holman's Taxi Service
0:00:45 - Holman interviews Muxen, Coach Gagliano and swinging for the fences
0:02:30 - The Mile as the glamour event
0:03:00 - Holman's perspective on the Mile; Webb breaking four in the Mile and not the 1600m; relatability of the Mile and resonance of the sub-4 minute Mile.
LAP 2 - Holman's Career
0:04:30 - Holman's first time breaking 4 minutes in Oslo; the fastest sub-4 debut of any American in history
0:05:25 - Is a sub-4 minute Mile as easy as Holman thought given his 1500m races and workouts?
0:07:00 - The Spring of 1992 and crossing the threshold of breaking four minutes in the Mile; comparing himself to the best Milers all-time in the U.S.
0:09:00 - What is it about the Mile that makes it so special?
0:10:30 - Training with the Enclave, Bob Lesko & Ronnie Harris' first sub-4 in 1993.
0:12:00 - Holman's favorite races: 1992 Olympic Trials & 1999 USA Championships

LAP 3 - Doping vs. the Gratification of Building a House Brick-by-Brick
0:13:20 - Placing 14th place with a 3:33.60 1500m (1998, Monaco; El Guerrouj 3:26.00 World Record); an athlete's choice with performance enhancing drugs
0:16:50 - Sleeping well at night as the 4th best in the world and what could have been with a consistent career or a level playing field
0:17:40 - The curse of the runner and never settling; the gratification of building a house brick-by-brick

LAP 4 - Gags the Motivator
0:20:15 - The role of Gags as coach and mentor; the master motivator; true student of the sport without ever being a runner
0:22:00 - Writing a book on Gags titled Leadership Lessons from Gags (BBTM hopes this happens)
0:23:00 - The athlete-coach bond
0:24:00 - The human element of coaching and training
0:24:30 - Development over the long term; no secrets of training
1992 Olympic Trials 1500m video