The Milers: Morgan Uceny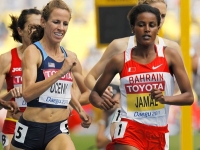 January 29, 2015
2011 IAAF Diamond League 1500m champion and only the second U.S. woman to finish ranked #1 internationally at 1500m / Mile, three-time USA champion, NCAA All-American at Cornell University and B.A.A. Elite team member, vies for portion of $15,000 Camel City Elite Mile prize purse on Saturday, January 31.
By Bring Back the Mile
In 2015, Bring Back the Mile will bring you exclusive interviews with some of the world's top Milers highlighting life on and off the track. Over the last four years, the USA women have arguably been the best and deepest in the world at 1500m and the Mile and no athlete represents the highs and some of the lows quite like Morgan Uceny. Uceny will toe the line at the Camel City Elite Mellow Mile presented by Mellow Mushroom Winston-Salem on Saturday, January 31 at JDL Fast Track in Winston-Salem, NC. The Camel City Mile is the first stop on the BBTM GP Tour 2015.
Since 2010, Morgan Uceny has been part of the U.S. women's resurgence in the middle distances: winning major track & road races and titles as well as World Championship medals. The Indiana native and Cornell grad has a Mile PR of 4:22 (road) and 4:29.61 (track) and a 1500m PR of 4:00.06, and the 2012 U.S. Olympic Trials 1500m champion has won the B.A.A. Road Mile three times (2010, 2012 and 2014) in her current training base of Boston.
BBTM: In 2013 it was announced that Coach Terrence Mahon along with his athletes would form the B.A.A. elite squad in Boston. A year and half later, what you have grown to love the most about the city of Boston?
Uceny: Boston really embraces the running community. It's evident there is a rich history of running with the marathon and there continues to be growth with the emergence of the BAA and New Balance elite teams. It's been a great experience to be a part of this community!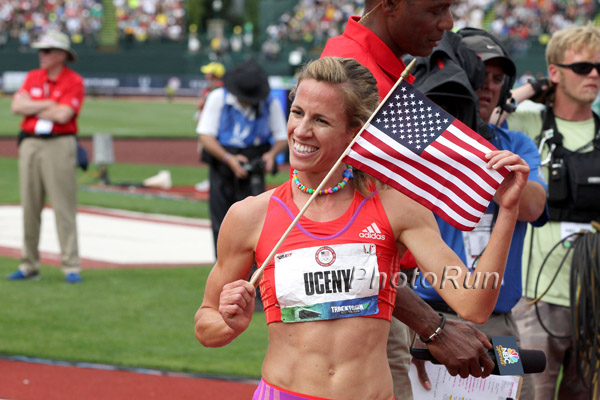 You certainly love the Boston roads, having been a three-time B.A.A. Mile champion. What are the differences between running on the roads and the track for you?
I really enjoy the laid back atmosphere of road Miles. And the spectators are able to belly up right along the course so there's always a great energy.
At the Camel City Mile you'll be racing a the JDL FastTrack, which is an indoor flat track facility. How do you perceive a flat track vs. banked track?
At Cornell I trained and competed on a flat track, so I'm no stranger to one! Although living in Boston we do our track workouts on a banked track which obviously is more comfortable the faster you are running. Once the gun goes off, the focus is on the race and the competition, not the track.
What is driving you in the morning to get out and train?
When I first wake up, I'm generally most excited about eating breakfast! But after that I'm just trying to get the best out of myself. Running is my current outlet for this, but even outside of running I'm trying to be the best version of myself.
Athletes always get asked what they eat before races or during training or what their favorite foods are, but day-in-day-out how would you simply describe your nutritional philosophy?
I eat real foods. I avoid things that are over-processed or contain ingredients I can't pronounce. I also avoid most dairy and grain products, but I don't shy away from a cookie or muffin on occasion!
Who would win Top Chef B.A.A. Elite?
Anna Willard definitely has the most passion for cooking and everything she makes is heavenly. Maybe I could give her a run for her money on a good day!
What did you want to be when you grow up?
A photographer for National Geographic! I still subscribe to that magazine and am always blown away by the photos and content.
How did you initially get into the sport of Track & Field?
I began running Track & Field in 6th grade. A lot of my friends were doing track, so I kind of just followed along. Plus it was a good way to stay in shape for the upcoming basketball season.
What do you want to be now when you grow up?
I don't know exactly what I want to pursue after running. Mostly, I have a very clear idea of what I don't want to do; like sitting in an office from 9-5! Health and fitness will always be a passion of mine, and I hope to be able to share that with others in some form.
What does Bring Back the Mile mean to you and did you notice that the IAAF is now accepting Mile times (3:53.30 – men and 4:25.20 – women) for the 2015 World Championships 1500m qualifying?
I think it's fantastic. It's a great nod to the hard work everyone involved with BBTM has been doing over the past couple of years. It also is more unifying for our sport since most other runners, say in junior high or high school, would race a Mile and not a 1600 meters.