The Return of the ORRC Mile Set for June 28 in Hillsboro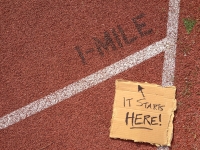 June 16, 2013
Friday evening event to contest iconic distance after 14-year hiatus at Hare Field track
By Joe Dudman, OregonLive.com community blogger
Friday evening, June 28th marks the return of one of the Oregon Road Runners Club's most fun events, The ORRC Mile. The race is short, and the course is simple: Four laps of the track! (If you get lost at this race, maybe you should re-think your plans to take up orienteering).
In truth, this event has a bounty of options, with something for almost everyone. The evening kicks off with a specialized quarter mile for participants with special needs, followed by a kids quarter mile. Then the Mile races begin with heats for individual age groups, elite heats for Open and Masters runners, a race-walkers' Mile, and a pacers' Mile where the goal is to come as close as possible to your predicted time. The night will be capped off with a 2 mile "Devil Takes The Hindmost" race, in which Beelzebub himself will tag out the trailing runner each lap with his pitchfork.
The events begin at 6:15pm, and the entry fee is only $5 for the first heat for ORRC members ($10 if you're not a member), and you can run as many additional heats as you like for $5 each.
Even if you've never run a Mile race before, you almost certainly have taken your Mile splits in longer races, so this is a great chance to set a benchmark for the basic building block of running. Remember, as long as you can turn left and count to four, you are a Miler!
Continue reading at: http://blog.oregonlive.com