The Range of Aaron Braun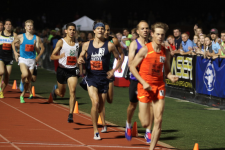 July 31, 2015
"I like the speed and aggressive nature of the Mile... I also believe it is a race that tactics are of the utmost importance."
From Boulder Running
Fort Collins' Aaron Braun is a runner you may not have heard much of before, but he epitomizes the working post-collegiate runners trying to make a living at the sport, and he has some range. This past May the Adams State alum competed in his 5th BolderBoulder International Team Challenge finishing 11th overall and 4th American. Two weeks later Aaron headed out to St. Louis to run in the Festival of Miles looking to break 4 minutes, last year he ran 4:01.3. He has also run a 2:12:54 marathon and after the FOM will refocus again on running the marathon in the Olympic Trials Marathon in L.A. next February.
My interest while talking with him immediately was in his incredible range and his courage to continue to race the Mile while also taking on other distances as the 10k and marathon while many post-collegiate/pro-athletes tend to focus on one end of the spectrum or another.
This year Aaron ran a gutsy race at the Festival of Miles and was second into the bell lap and through the back straight, but the pace caught up to him, his legs went flat and he again narrowly missed the elusive mark. Although he didn't achieve what he set out to do, the night was highlighted by Grant Fisher running 3:59.38 in that same event to become the 7th high schooler to best the mark.
Continue reading at: boulderrunning.com