The Stillwater System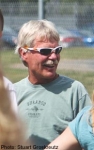 September 19, 2012
Scott Christensen's high school program hones speed and produces long-term results.
By Jim Ferstle, Running Times Magazine
If you started running in high school, chances are you remember your coach. This is especially true if that coach developed your abilities beyond what you knew to be possible, led you and your teammates to success in high school, and set you up for continued excellence as you went on in running and life. Scott Christensen of Stillwater Area High School in Minnesota is one such coach.
During Christensen's 32 years at the helm, the Ponies have won four state titles in cross country and four more in track. In 1997 "the magnificent seven," as that year's cross country team was nicknamed, was selected as the No. 1 high school team in the country in a USA Today/Harrier poll.
In August 2011, Stillwater runners past and present paid tribute to their coach. The alumni, who keep in touch via social media, took nearly a year to plan the surprise distance runner reunion in the river town, population 18,000, on the Wisconsin border. "They know I would never go on Facebook, so they were free to plan it there," Christensen says. Fifty alums showed up, from as far away as Amsterdam, Los Angeles and Washington, D.C., and 30 of them ran the 5K race they organized for the event.
It was a fitting tribute to Christensen, 57, a science teacher at Stillwater, who has instilled in his runners a winning ethic that extends well beyond high school. Of the many who went on to run in college and post-college, four Stillwater alumni have broken 4:00 for the Mile -- the most of any high school in the U.S.
Continue reading at: runningtimes.com