The Training of Mile Legend Steve Scott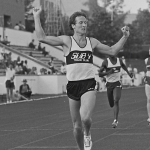 April 02, 2018
"Get over it. If you have a bad workout or a bad race, allow yourself exactly 1 hour to stew about it, then move on."
By Runner's Tribe
This is Part 1 of a 2 part series. Part 1 looks into Steve Scott's training during the later stages of his career. By this stage, Steve had already amassed a huge level of aerobic endurance and strength.
Personal Records
800m: 1:45.05
1500m: 3:31.76 (U.S. record)
Mile: 3:47.69 (U.S. record)
2000m: 4:58.6 (U.S. indoor record)
3000m: 7:36.69
5000m: 13:30.39
Career Highlight
► World Championships 1500m silver medal, Helsinki 1983
► Three-time Olympian
► 137 career sub-4 minute Mile races, the most in history
► 1977 NCAA Outdoor Track & Field Championships 1500m title
Without question, Steve Scott is one of the greatest Milers in history. The silver medalist in the 1500 meters at the 1983 Helsinki World Championships, Scott still holds the U.S. indoor record in the 2000 meters (4:58.6, 1981). He held the American outdoor Mile record for more than 26 years and is also the former American indoor record holder for the Mile. The august Track & Field News ranked Scott #1 in the USA for 10 different years, and 11 times during his career he was ranked in the top 10 in the world by TFN.
Scott's career spanned from his high school and college days in the late 1970s all the way through to May 1994 when Steve was diagnosed with testicular cancer, he made a full recovery.
Amazingly, Scott ran the sub-4:00 minute Mile on 137 documented occasions in his career, more than any other runner in history. Here we dive into the training of this great American Miler.
The Overtrainer
Steve's training during his peak younger years will be outlined in Part 2 of this two articles series. However, during these younger years Scott overtrained and was finding that his endurance capacity was continually being damaged by training too hard during the pre-competition training period. At this stage of his career, Scott believed that the harder he trained, the faster he would become and the longer he would be able to remain a 3:47 Miler. The over training resulted in frustration, stagnation and injuries.
During the later stage of his career, under the guidance of Irv Ray, Steve spent most of his training concentrating on both aerobic endurance and 400m speed and he significantly reduced the volume of intense anaerobic running.
Continue reading for Part 1: runnerstribe.com
Part 2 includes Scott's training log: runnerstribe.com