The Unknown American in the First Sub-4 Mile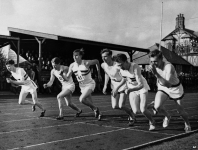 August 12, 2014
"Four minutes was a mental barrier. In order to run well, you really have to pay attention to what you're doing."
By Parker Morse for Runner's World
A week after the Beach to Beacon 10K in Cape Elizabeth put the image of one Maine running icon, Joan Benoit Samuelson, up on the Portland Head Light, another Maine runner with his own place in history was honored with a much more low-key event.
The Dole 3-Miler in Fryeburg saw a whopping 72 finishers on Saturday, August 9, including the Reverend Dr. George F. Dole, who finished 37th in 30:06. Dole, 83, wore bib #15, the same number he wore on May 6, 1954, when he took the inside position for the Mile race at the Oxford University vs. AAA (the British equivalent of the American Athletic Union) dual meet at Iffley Road Track in Oxford, England (see photo).
That race, of course, is known to history as the race where Roger Bannister, running for the AAA with fellow Olympians Chris Chataway and Chris Brasher, became the first person to break 4:00 for the Mile.
In the midst of preparing for his final exams at the time, Dole finished a distant fifth in 4:25. "I was maybe 30% competitor, 70% spectator," he recalls. "I wanted to see the race as much as anybody else."
Continue reading at: www.runnersworld.com