The Unsung Glory of the Mile Run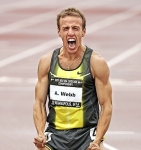 February 19, 2014
Alan Webb's final 1609.34 meters were a tribute to middle-distance runners everywhere.
By Svati Kirsten Narula, The Atlantic
In 2001, Alan Webb was a senior at South Lakes High School in Reston, Virginia. He was also a distance runner who'd been winning races and breaking records since his freshman year. On May 27th, at a track meet in Oregon, Webb ran a Mile in 3 minutes and 53.43 seconds.
He had broken four minutes in the Mile before, clocking a 3:59.86 indoors on January 20, 2001, at the New York City Armory. The sub-4-minute Mile is a hallowed mark that, to this date, separates the pros from the amateurs in middle-distance running. Only five high-school runners have ever done it: Jim Ryun was the first, in 1964, and he eventually set the high school Mile record at 3:55.3. No scholastic athlete could best that, until Webb came along. 3:53 is now the fastest Mile an American high school athlete has ever run.
For the past 13 years, Webb has been through the ups and downs of sustaining a running career—different coaches, different distances, different surgeries, different training groups—and fans (and his sponsors at Nike) have gone with him. He holds the U.S. record for the Mile (3:46.91), and no one has broken his high school record yet. Even when he disappoints, fans remember that this is the guy who broke Jim Ryun's record, this is the guy who brought back the Mile! We've always credited him, basically, with breathing some fire into American track and field.
On February 15, 2014, Alan Webb showed up for his last race as a professional runner. He showed up for the famous Wanamaker Mile at the prestigious Millrose Games, held this year at the New York City Armory. There was some chatter, and perhaps genuine hope, about the possibility of one last four-minute Mile from Webb on the same track where he did it for the first time. He had announced in January that he was "burned out from running" and wanted to transition to the sport of triathlon, so everyone knew that the 2014 Wanamaker Mile would be his last, but they also knew that Webb, at 31, was still one of the all-time greats. So fans like me watched him run his last Mile—hanging on at the back of the pack for most of it, finishing 11th out of 12—in 4:06.11, and we felt satisfied. We've all been there. (Those of us who ran competitively in high school or college, especially, have been "there," struggling to keep up with a field of faster, fitter athletes. You're not having "a bad day," you're not sick—you're simply outclassed, and you must run with your whole heart anyway.)
Continue reading at: www.theatlantic.com