Tired of the marathon? Try the Mile!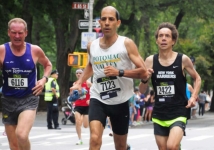 February 14, 2019
"Training for a Mile, you get all sides of the spectrum. You train for speed and train for endurance."
By Andrew Gates, RunWashington.com
"I love the Mile," said DC's Henry Wigglesworth, who considers it his favorite race distance. The 61-year-old has fallen in love with the Mile after years as a distance runner.
Wigglesworth (photo right, middle) took up running after college when he moved to New York City and his friends encouraged him to run the New York City Marathon. He did not take the race too seriously but enjoyed it enough to run it again a few years later. During his second New York City Marathon, Wigglesworth even stopped in Central Park for a beer with his friends toward the end of the race.
"I didn't really think of myself as a very serious runner," he recalls.
But Wigglesworth started to take running more seriously when he moved to Albuquerque a few years later. He ran the Duke City Marathon in under three hours and qualified for the Boston Marathon, which he ran fast enough to qualify for again. But during his second Boston Marathon, Wigglesworth found himself unable to finish. "I pulled out fairly late in the race," he said.
"And that was basically it. I sort of fell out of marathoning then." Wigglesworth's break from running after that was long. Following his DNF in Boston, he did not run from the age 35 to 45.
It was not until he moved to Seattle when he began to run again. It was there that he joined a group that did regular track workouts. He also discovered the book The Perfect Mile, a book about breaking the 4-minute mark. Inspired by both his new running group and the book, Wigglesworth decided to try his hand at the Mile distance.
"The Perfect Mile inspired me to try to run a 5-minute Mile," he said. And so Wigglesworth trained to break the 5-minute time. In his first meet to break it, he ran 4:53.
From there, he was hooked.
Continue reading at: runwashington.com