Top Fields Expected at Adrian Martinez Classic 2015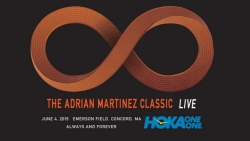 May 29, 2015
Robby Andrews headlines host of sub-4 athletes for Adro Mile; Violah Lagat to defend women's Mile title on Thursday, June 4
From Adrian Martinez Classic
CONCORD, Mass. – The Adrian Martinez Classic track meet has announced outstanding High Performance entries for the seventh edition of the meet, building on the successful introduction of elite 800m, 5000m and Mile fields in 2014. The High Performance races are an integral part of the community- oriented event, scheduled to take place at Emerson Field, Concord, MA on the evening of Thursday, June 4, 2015. The nation's top-ranked men and women at 800m and 5000m as well as the Mile are expected to compete.
"The 2015 Adrian Martinez Classic High Performance races have been specifically scheduled in date and location to meet the competition needs for the top-tier of U.S. men and women middle distance and distance athletes as they prep for the upcoming USA Outdoor Championships in Eugene. These 800m, 5000m and Mile races would not be possible without the full support of HOKA ONE ONE. We are filling a national developmental need, based on the East Coast and building on last year's success," said Jonathan Marcus, Elite Athlete Coordinator.
With entries still to close, the Men's Adro Mile shows Robby Andrews heading a total entry of 18 sub-4 minute Milers. Andrews has a best of 3:34.78 for 1500m (Mile equivalent: 3:51.9) and is followed by Lee Emanuel of Great Britain who ran 3:35.66 for 1500m in this past indoor season (Mile equivalent: 3:52.9) and Kyle Merber who has a best track Mile clocking of 3:54.76.
The Women's Adro Mile features the return of last year's victor: Violah Lagat of Kenya who has a best of 4:29.43 (PR in winning last year) and may face again 2012 Olympian Morgan Uceny, who was runner-up in the Adro Mile 2014, but this year is currently entered in both the Mile (4:29.61) and 800m (1:58.37). Nicole Tully (nee Schappert) is another athlete entered in both the 800m (2:02.86) and Mile (1500m best of 4:06.87, Mile equivalent: 4:26.4).
In the Women's 5000m, there are currently more than 20 women entered who have gone under 16 minutes, including seven who have bettered 15:30. Last year's winner, Amy Cragg (nee Hastings) returns to Emerson Field with a PR of 15:09.59, but will be challenged by a strong field including two other 'USATF High Performance Tier Program' athletes, Desiree Linden (nee Davila), 15:08.64 and emerging star Abbey D'Agostino, 15:11.35.
In the Women's 800m, Dana Mecke returns with a 2:02.85 PR, achieved in winning last year's race and is joined by 2008 Olympian Erin Donohue, who ran 1:59.99 in 2010 but did not compete in 2012 or 2013 and only sparingly last year. After her recent 2:04.18, Donohue is hoping for a return to her previous form. Also, watch out for the fast improving Kendra Chambers, with a recent best of 2:01.93 after setting PRs in 2015.
Meet Director Steve Lane founded the Adrian Martinez Classic in 2009 as a tribute to a great runner and wonderful young man Adrian Martinez. "The Adrian Martinez Classic has become what we had always envisioned – an event for the community that incorporates high performance international athletes, in an informal, park-land setting. All to celebrate the memory of a young man who was lost to us, too soon, and HOKA has helped us with the means to achieve our vision."
Jim Van Dine, HOKA President, added, "We recognize that high performance competition is not always easy to find for our elite and emerging elite athletes. That is why we have invited the nation's top-ranked men and women at 800m and 5000m as well as the Mile to participate, in what is a unique setting for them. Here in Emerson Field, Concord there is an intimacy and a relaxed environment surrounding the site. Spectators can almost reach out and touch the athletes during competition and can mingle with them pre- and post-race. The Adrian Martinez Classic creates an incredible atmosphere and fast times."
The Mile races are designated the 'Adro Miles', reflecting Adrian's love of the Mile race, and attract their own bonuses for time achievement. The first man and woman breaking the existing records of 3:58.73 and 4:29.43 respectively, both set last year, will receive $2000. With the fields entered for these races, said records will be in jeopardy. The Meet commences at 5:00pm with the Scholastic HS Miles, sees the High Performance element begin at 6:15pm and concludes at 9:00pm.
The Adrian Martinez Classic serves as a fundraiser for the Adrian Martinez Memorial Scholarship Fund at Concord-Carlisle High School (which is administered by the CCHS Scholarship Fund), and for the Friends of CCHS Track & Field, which supports the Track & Field teams at CCHS. Adrian's parents, Angel and Frankie, his brothers Lucas and Julian, and his sister, Olivia, have established the Adrian A. Martinez Memorial Scholarship Fund to commemorate his passion for distance running and his devotion to learning. It is their sincere hope that his kindness, humility, giving nature, sense of purpose and commitment and inspirational leadership will be reflected in all recipients of this annual award.
Visit www.martinezclassic.com for more information.