Track Chats – Hannah Meier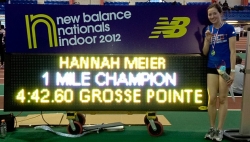 August 25, 2012
By Lyle Knudson, MileSplit
This interview features Hannah Meier, senior, Grosse Point South HS, Grosse Point Farms, Michigan. Hannah was 3rd in the Michigan State Cross Country Division 1 Championships in 2010 and 2011, with a best 5K XC time of 17:21.20. In 2012 track, she was the New Balance Indoor National Mile champion, (4:42.60), 2nd in the USATF Junior Nationals 1500m (4:18.44) and a semi-finalist in the World Junior Championships. Hannah also has an 800m PR 2:08.44.
When & how did you get started in cross country, or generally in your running career?
I first started running cross country at my middle school, St. Paul Catholic School, when I was in seventh grade. I tried it out the first day at practice, and realized I actually liked it. I had confidence going in because I was in the lead pack with my sister and a couple boys on the team. My parents and my sister encouraged me to try it out. My sister had already done well during the first year she competed. My mom used to be a sprinter, and I noticed that I got a lot of endurance from my dad who was a rower in high school. I gradually got better through seventh and eighth grade, then started at Grosse Pointe South High School, and decided to take my running to a whole new level.
Continue reading at: milesplit.com