Track veteran Lagat ready to hit the road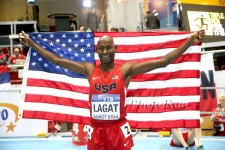 March 28, 2014
Two-time Olympic medalist ready to run in 'World's Fastest 5K'
By Kristian Ibarra, San Diego Union-Tribune
He ran in the Olympics, earning silver and bronze 1500m medals. He won gold at the World Championships.
Now, for the first time in his storied track & field career, Bernard Lagat (above, PhotoRun) is hitting the road to race in the Carlsbad 5000 on Sunday.
At 39, Lagat is nearing the end of his career. Before he says goodbye, the Kenyan native wants one more thing — to win the storied Carlsbad race.
"I've always wanted to run the Carlsbad 5K from a long, long time ago," said Lagat, who became a U.S. citizen in 2004. "I could even say I've wanted to from six or seven years ago that I'd been looking at the race, but I kept pushing it back, thinking, 'maybe after the Olympics, maybe after the World Indoor (Championships).' "
Lagat — the second-fastest man to run 1500 meters at 3:26.34 also with a Mile PR of 3:47.28 (#9 male all-time) — is looking for a new challenge. But he won't be the only notable runner featured on the Carlsbad road Sunday. Ethiopian Dejen Gebremeskel, 24, a three-time Olympic medalist, will be there, too.
Continue reading at: www.utsandiego.com