Train Like a Miler, Race Like a Pro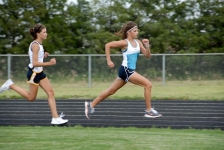 March 20, 2017
Short, fast reps will help you race better at any distance.
By Joe Rubio, Runner's World
What if you could add a single training element to your routine once every seven to 14 days that has proven to significantly increase your potential for faster racing times at any distance? What if it took as little as 10 to 15 minutes each session to see results? Sound too good to be true? Such a training method does exist and has been providing impressive results for decades.
Unfortunately, this type of training is widely misunderstood and, consequently, is shunned by many. Although this training method is most closely linked to the training that a Miler would do frequently, most of the best long-distance runners since the 1960s have used this type of training consistently with incredible success.
What is this magic elixir for improved race times? Short intervals. Specifically, high-quality runs of 200 to 400m, repeated a fair number of times at a pace faster than your current 5K race pace.
Continue reading at: www.runnersworld.com