Truly "Unbroken," Zamperini Shined at NCAAs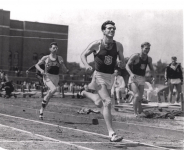 January 26, 2021
USC Trojan won consecutive outdoor Mile crowns from 1938-39, including meet record
From USTFCCCA
The final day's track portion of the 1938 NCAA Outdoor Track & Field Championships got started with one of the meet's classic Mile races.
Returning was champion Charles Fenske of Wisconsin, but everyone knew to keep an eye on Louis Zamperini, a sophomore from the University of Southern California – especially on the last lap at Minnesota's Memorial Stadium.
In Zamperini's last major race, the then-19-year-old had the fastest last lap of the 5000 meters at the 1936 Berlin Olympics and finished eighth (it was a fast race as the top-4 men either bettered or equaled the Olympic record). Zamperini earned his spot on the U.S. team thanks to tying for first at the Olympic Trials. Here is another interesting tidbit: his roommate at the Olympic Games that year was none other than legend Jesse Owens.
At the bell here, Zamperini was in fourth place behind leaders Fenske and Missouri's John Munski. Indiana's Jim Smith moved from third to first briefly on the backstretch before Fenske took control until Zamperini zoomed past on the last turn and held off the Badger for the victory.
The times were incredible, as both Zamperini (4:08.3) and Fenske (4:08.8) bettered the NCAA meet record of 4:08.9 set in 1934 when Princeton's Bill Bonthron beat two-time defending champ Glenn Cunningham of Kansas. In fact, only Cunningham's 4:06.7 in 1934 – a world record at the time – had ever been run faster by a collegian.
Zamperini won the NCAA Mile again in 1939 (and USC also repeated as NCAA team champion), but by the time his meet record was finally broken in 1953, he had become a World War II hero, having survived 47 days afloat in the Pacific Ocean after his Army plane crashed, followed by more than two years of brutal punishment as a prisoner of war.
His experiences were detailed in the best-selling 2010 biography Unbroken, which was adapted as a major motion picture under the same name in 2014. The theatrical release, unfortunately, came a few months after Zamperini died at the age of 97, one of the oldest-known NCAA champions.