Tsolis Sets State Street Mile Record, Terry Takes Men's Title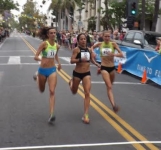 June 04, 2017
Event record 8 men go sub-4 minutes at the "fastest Mile in the west"; 18th edition draws 1,200 entrants; race proceeds go to Santa Barbara District Attorney's Crime Victim Emergency Fund
By Ryan Lamppa, Mile wire
SANTA BARBARA, Calif. – (June 4, 2017) – On an overcast, cool Sunday morning, Tori Tsolis of San Jose and Darius Terry of Santa Barbara won the 18th State Street Mile, clocking 4 minutes, 22 seconds and 3:54, respectively, in beautiful downtown Santa Barbara. In a photo finish, Tsolis, 24, also set a course record by 1 second on the gradual downhill, point-to-point course.
"At the 'fastest Mile in the west', we had another impressive record-setting day! Our 18th edition drew 1,200 entrants and also produced plenty of happy adults, kids and dogs," said race director Megan Rheinschild. "We thank all our sponsors, our volunteers, city officials and everybody who made this annual community event possible and a success."
The women's HOKA ONE ONE Elite race featured three women – Tsolis, Ayla Granados of Castro Valley, Calif. and defending champion Alycia Cridebring from Davis, Calif. – who battled it out from the gun. The trio hit the halfway point under 2:10 and jockeyed for position the remainder of the race down State Street. Tsolis made a hard move with 300 meters left and held off Granados and Cridebring. It was a photo finish with Tsolis' 4:22 breaking Cridebring's record by 1 second. Granados and Cridebring equaled the old mark, both timed in 4:23 with Granados runner-up.
"The three of us were together from the start and the lead went back-and-forth the whole way. I started my kick with 300 to go and held on," said Tsolis who was runner-up last year in 4:24 and also holds the UCSB women's 1500 record.
In the men's HOKA ONE ONE Elite Mile, like past editions, there was a large group together throughout the race as they hit ¼ mile splits in sub-60 seconds. Terry, 26, an assistant track coach at UC-Santa Barbara, proved to have the best closing finish as he pulled away in the final 100 meters for the clear win. David Cardona of Torrance, Calif. followed 1 second later as runner-up, edging Michael Davila of Moreno Valley, Calif., both timed in 3:55.
An event record 8 men went under the coveted 4 minute standard (old record was 6 sub-4 in 2013-14 and 2016). In addition, Ireland native Neville Davey, 42, Palo Alto, Calif. ran 4:00 to shatter the Masters (40 & older) course record by 11 seconds and finished 9th overall in a field of 21.
"It was close all the way. Some guy made a move with a quarter mile to go and I covered it and then went hard to the line. I got third last year, so it was nice to come back and get a win this time," said Terry, who coached Tsolis at UCSB and also competed on Saturday at the Jim Bush Meet in Pomona and finished second in the 1500 meters, running 3:44.51.
Both State Street Mile race champions won $1000 with Tsolis also taking home the $1000 course record bonus.
In the Elite Masters races (40 & older), Brian Duff, 40, from Los Angeles and ultra running star Caroline Boller, 42, Solvang, Calif. captured overall titles in 4:22 (a division record) and 4:59, respectively. Ray Knerr, 57, from nearby Ventura was the top age-graded male Masters (98.43%), while Boller, who also ran her first Mile race, was the top female (90.75%). Interestingly, last year, Duff and his wonder dog Kaydom won the Dog Mile in an incredible 4:13, the fastest known human-dog Mile performance.
The Amputee Mile champions were Andre Barbieri, 36, Santa Barbara in 7:03 and Karen Aydelott, 71, San Luis Obispo, Calif. in 13:04 (repeat winner who broke her own event record).
At the crowd-pleasing Platinum Performance Dog Mile, the unofficial world championship, despite falling near the end, Geoffrey Gray & Hank (white Labrador) won in 4:37 (the pair also won the race in 2014), while the female human-dog winners were Jill Deering & Abbey (Chihuahua mix), 5:38; both dogs are rescue dogs. All four champions are Santa Barbara locals.
6 Division race records were set by:
10 & under
Simone Pelascini, 10, Camarillo, CA, 5:51
20-29
Adilene Aldapa, 20, Santa Barbara, CA, 4:49
40-49
Brian Duff, 40, Los Angeles, CA, 4:22
60-69
Yayoi Liu, 60, Irvine, CA, 6:11
70 & over
Joe Kelly, 70, Santa Barbara, CA, 6:04 (ties record)
Amputee
Karen Aydelott, 71, San Luis Obispo, CA, 13:04
Under a marine-layer, race day started with eight age group categories (10 & under, 11-14, 15-19, 20-29, 30-39, 40-49, 50-59, 60-plus) followed by the popular, untimed YMCA Family Mile, Achilles Prosthetics Amputee Mile, Masters Mile & HOKA ONE ONE Elite Miles and capped off with the not to be missed, tail wagging Platinum Performance Dog Mile.

A guaranteed Open prize purse of $5000 was available plus $1000 for a course record, while the Masters Mile (age-graded) and Amputee Mile (above and below the knee divisions) races offered Santa Barbara-centric gift baskets to the top three.
The Finish Line Festival on State and De La Guerra Streets featured music, a bounce house, games and breakfast burritos as well as free face painting and massage.
All event proceeds will go directly to the Santa Barbara District Attorney's Victim-Witness Assistance Program's Crime Victim Emergency Fund.
The State Street Mile is also a Santa Barbara Athletic Association Grand Prix and Junior Grand Prix event as well as a Bring Back the Mile Featured Event, showcasing the best Miles in America and throughout the year.
18th State Street Mile
Santa Barbara, CA, Sunday, June 4, 2017
HOKA ONE ONE ELITE MILE
MEN
1) Darius Terry (CA), 3:54, $1000
2) David Cardona (CA), 3:55, $750
3) Michael Davila (CA), 3:55, $500
4) Aric Champagne (CA), 3:56, $250
5) Derek Thomas (CA), 3:56
6) Ryan Miller (CA), 3:57
7) Andrew Daedler (CA), 3:59
8) Thomas Poston (CA), 3:59, defending champion
9) Neville Davey, 42, (IRL/CA), 4:00*, $100#
10) Brock Moreaux (LA), 4:01
*Masters (40 & older) course record (4:11, Mike Egle (IL), 2004)
#Masters course record bonus
WOMEN
1) Tori Tsolis (CA), 4:22*, $2000#
2) Ayla Granados (CA), 4:23, $750
3) Alycia Cridebring (CA), 4:23, $500
4) Erika Barr (CA), 4:42, $250
5) Brittni Hutton (CA), 4:43
*course record (4:23, Alycia Cridebring (CA), 2016)
#includes $1000 course record bonus
MASTERS MEN (40 & older) – age-graded
1) Ray Kneer, 57, CA, 4:34 (98.43%)
2) Mark Butala, 49, CA, 4:36 (91.47%)
3) Rachid Bendriss, 48, Oslo, NOR, 4:37 (90.42%)
MASTERS WOMEN (40 & older) – age-graded
1) Caroline Boller, 42, CA, 4:59, (90.75%)
2) Maggie Mason, 60, 6:22 (89.66%)
3) Tabitha Elwood, 44, CA, 5:19 (87.08%)

For complete results and more, go to: sbmile.com