Virginia Mason Memorial Downtown Yakima Mile launched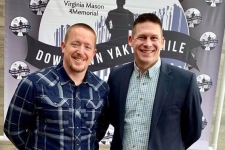 March 27, 2019
Inaugural road race, set for Saturday, June 8, offers $25,000 prize purse; also second stop on the BBTM Grand Prix Tour 2019
By Mai Hoang, Yakima Herald-Republic
YAKIMA, Wash. -- Two Yakima natives and former college track competitors will bring a new Mile road race to town in June with more than $20,000 in prize money.
Participants will race on Yakima Avenue on Saturday, June 8 in the inaugural Virginia Mason Memorial Downtown Yakima Mile, according to a news release.
The course will start just east of 16th Avenue and head to the shadow of the Larson Building on the corner of Second Street and Yakima Avenue. The event will feature 11 races for different categories of runners and will cover 14 blocks in a gradual downhill stretch.
The idea for the event came from Chris Waddle, co-owner of Hogback Development Co. and Erik Mickelson, CEO of Howard's Medical Supply. Both are former college track competitors and wanted to bring a new running event to the Yakima Valley.
"This will be a high-energy event and will highlight the abilities of the athletes, including elites, up-and-coming runners, families and the next generation of Milers," Waddle said.
The Mile is a far less common distance compared to the 5K, which has been the go-to distance for community races. But there have been efforts nationwide to bring the Mile distance back into vogue. The Yakima race is the second stop on the Bring Back the Mile Grand Prix Tour 2019.
Continue reading at: yakimaherald.com