Westbrook's Lombardo to run in new B2B High School Mile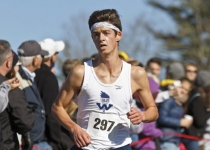 August 04, 2016
"In the Olympics, I think the hardest race is the 1500 – close to a Mile, and I think people like watching it."
By Adam Birt, Keep Me Current
The TD Beach to Beacon returns to Cape Elizabeth on Aug. 6 for its 19th annual running. This year, organizers have added another facet to the event: the High School Mile, exclusively for elite Maine student athletes.
"It's the inaugural year; we're giving it a test run and going to work out the kinks," said Morgan Lake Adams, coordinator for the High School Mile and cross country head coach at Maine Coast Waldorf School in Gray-New Gloucester and Freeport. "But hopefully in the coming years this is going to grow."
Westbrook senior Josh Lombardo applauds the Mile because its addition alongside the 10K will expose runners to athletes who specialize in different distances.
Continue reading at: www.news.keepmecurrent.com