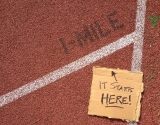 August 24, 2016
"This is my year to make the required time. I may not be chosen for the varsity team, but it will not be because of my Mile time."
By David Bereck, Plumstead Christian School
The sun beats down as we run the Mile, completely draining our energy. The sweat trickles down my face as I look over...
Read More
comments