Plumstead Christian senior determined to crack desired Mile time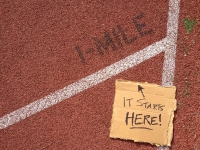 August 24, 2016
"This is my year to make the required time. I may not be chosen for the varsity team, but it will not be because of my Mile time."
By David Bereck, Plumstead Christian School
The sun beats down as we run the Mile, completely draining our energy. The sweat trickles down my face as I look over to see my teammate struggling just as much as I am.
Dehydration starts to kick in and my legs become weak, but I keep running. Here I go again.
My mind says stop, and ignoring it is the hardest part of running.
Why do I continue to run? Why does it matter if I get that certain Mile time?
Every high school athlete knows that the worst part of a school sport is preseason. Preseason is a period where athletes train to become physically fit for the sport. Soccer season is right around the corner, and the first week of preseason is over.
Continue reading at: www.buckscountycouriertimes.com