2013 Track Chat: Sean McGorty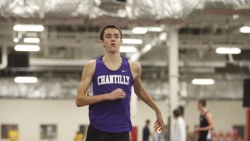 January 24, 2013
By Aaron Rich, MileSplit
MileSplit: Your XC fitness has certainly paid off. 9:07 for 3200 and 4:11 and 2:30 for 1600m and 1000m. How does this set up the rest of your senior campaign?
Sean: I think these times are great starting points. I was thrilled with these times so early on because I am still just building my base back up. I'm excited to see what happens at the end of indoors and especially outdoors.
MileSplit: If you had to throw it out there, how fast do you think you can go for the Mile and 2 Mile indoors?
Sean: Indoors I think I can break 9 minutes for the two Mile, how far under 9, I will just have to see. I double and triple a lot during the championship season which makes it hard to run really fast but I look at it as quality work that will really help during nationals and into the outdoor season. As for the Mile I think that if I feel good I could go 4:05 indoors.
Continue reading at: milesplit.com