What Does Success Mean to You?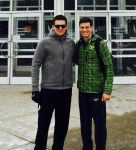 March 09, 2015
No matter what your passion is in life, it is always sweeter when you can share it with the ones you love.
By Matthew Elliott, In the Arena with Matt Elliott
This past weekend I competed in the USA Indoor Track & Field Championships in Boston, MA. I ran my marquee event, the Mile, against one of the strongest fields assembled at the 2015 version of the meet. All three 1500m Olympians from 2012 were slated to compete--Matthew Centrowitz, Leo Manzano and Lopez Lomong--as well as two of the strongest Milers in the country so far in 2015—Ben Blankenship and Pat Casey. I had a great deal of confidence going into this race because I knew I had had my best indoor season of my career--running personal best times in both the 1 Mile and 3000m runs, and my coach (who came to support me from Belgium) was constantly telling me that I could get a medal (top 4) and prove myself as I did back in 2013.
I wanted to do my absolute best in this race, but success had a different meaning for me. My main goal was to have fun and enjoy the experience that only a National Championship can bring. There are only two opportunities like this each year, indoors and outdoors, and I wanted to relish in the fact that I was in the best shape of my life and wanted to compete at the highest possible level against our nation's best Milers. I knew that most people look at time and place as a gauge for success, but I feel that for this race (and moving forward) I have a different scale to measure success. Not that I am becoming soft or less competitive, this way of thinking for me has enabled me to focus and become even more of a warrior on the starting line.
Continue reading at: in-the-arena-mattelliott.blogspot.com