When we were Kings: Ireland's magic Milers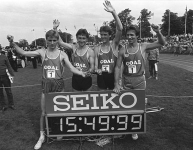 January 02, 2018
Island nation's athletes are notable part of the iconic distance's rich history
By Tom Hunt, Irish Examiner
Paul Robinson's recent world best time of 4:17.9 for a Mile run in sub-zero Antarctica recalled memories of a previous era when Ireland's leading Milers competed at elite level and helped to rewrite the record books.
Irish athletes, have a distinguished record in Miling and have broken every barrier associated with the event, four of them hold the world 4x1 Mile relay record since 1985, another has run 101 sub-4-minute Mile races, two have broken the sub-3:50 figure for the distance one of whom was the first 40-year-old to run the distance in less than 4 minutes.
At least 50 Irish athletes have made the journey in less than 4 minutes and legends Ronnie Delany and Eamonn Coghlan have established indoor world records for the distance.
Delany laid down the foundation for Irish middle distance running. In 1895, Tommy Conneff, a native of Clane, Co Kildare, in a race held at Travers Island, New York ran the fastest Mile of the 19th century by an amateur athlete (4:15.6) and this time remained untouched by an Irish athlete until August 1947 when John Joe Barry established a new Irish national record.
Barry was to set four more national Mile records over a two-year period but his flirtation with athletic greatness was relatively brief, as the monasticism essential to achieve athletic greatness proved unattractive.
Then came Delany who broke the mold of Irish athletic stagnation and mediocrity and his exploits inspired a generation.
Apart from his Olympic 1500m title in 1956, Delany also assembled one of the finest winning streaks in athletics history as he recorded 40 successive indoor victories in the USA between March 1955 and March 1959.
The unbeaten streak included 33 successive Mile victories. He was also the first Irish athlete to clock a sub-4 minute Mile.
His time of 3:59.00, recorded at Compton in California in May 1956, made him the seventh and the then youngest member of the most exclusive club in the world of sport: the men who had run a Mile in less than 4 minutes.
Delany proved conclusively that the American athletic scholarship system worked, the words Villanova and Jumbo Elliott entered the vocabulary of the Irish sports follower and a stream of promising Irish athletes availed of the opportunity for an academic and athletic education in the USA.
The value of this system was seen to greatest effect in the 1980s when several Irish scholarship athletes competed successfully at the highest level of the sport in a period of sustained excellence that may never be repeated.
Some of their exploits in the mile distance are documented here.
Flynn's National Record
Ray Flynn's Irish Mile record of 3:49.77 celebrated its 35th birthday last year and the mark is now firmly embedded in the category of Irish athletic records that may never be broken, especially when one considers that only Sean Tobin ran the distance in less than four minutes in 2017.
On July 7, 1982, Flynn was part of an Oslo cast that included fellow legends Steve Scott and John Walker in the Dream Mile. Scott was on a world record-breaking mission but his finishing time of 3:47.69 was outside Seb Coe's world record (3:47.33). Scott was chased strongly by Flynn, who in turn was passed by John Walker in the final sprint for the line. Walker's time of 3:49.08 also survives as the New Zealand national record.
O'Sullivan's 101 sub-4 minute Mile performances
In the history of athletics only three athletes, Steve Scott (137), John Walker (127) and Marcus O'Sullivan (101), have raced the Mile in a time of less than 4 minutes on more than 100 occasions.
O'Sullivan completed his century on February 13, 1998 when he finished in third place in the Wanamaker Mile at Madison Square Garden, New York City in a time of 3:58.1. O'Sullivan, the last Irish athlete recruited to Villanova by the legendary Jumbo Elliott, ran his first sub-4-minute Mile (3:58.84) 15 years earlier in the notoriously slow indoor arena in Chapel Hill, North Carolina.
Finding his Chapel Hill trophy in the basement of his New Jerset home inspired O'Sullivan to chase the dream of a century of sub-4 Mile times. "I was thinking of retiring from athletics. I was cleaning out my basement when I came across the trophy I won for my first sub-4 in Chapel Hill in 1983… That's when I decided to go for the 100, which means entry to a pretty exclusive club… It has helped greatly to keep me motivated over the past several seasons," O'Sullivan explained on the historic occasion.
Continue reading at: irishexaminer.com