When we were Kings: Ireland's magic Milers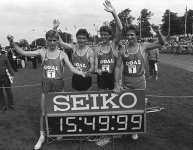 January 02, 2018
Island nation's athletes are notable part of the iconic distance's rich history
By Tom Hunt, Irish Examiner
Paul Robinson's recent world best time of 4:17.9 for a Mile run in sub-zero Antarctica recalled memories of a previous era when Ireland's leading Milers competed at elite level and helped to rewrite the record books.
Irish athletes, have a distinguished record in Miling and have broken every barrier associated with the event, four of them hold the world 4x1 Mile relay record since 1985, another has run 101 sub-4-minute Mile races, two have broken the sub-3:50 figure for the distance one of whom was the first 40-year-old to run the distance in less than 4 minutes.
At least 50 Irish athletes have made the journey in less than 4 minutes and legends Ronnie Delany and Eamonn Coghlan have established indoor world records for the distance.
Delany laid down the foundation for Irish middle distance running. In 1895, Tommy Conneff, a native of Clane, Co Kildare, in a race held at Travers Island, New York ran the fastest Mile of the 19th century by an amateur athlete (4:15.6) and this time remained untouched by an Irish athlete until August 1947 when John Joe Barry established a new Irish national record.
Barry was to set four more national Mile records over a two-year period but his flirtation with athletic greatness was relatively brief, as the monasticism essential to achieve athletic greatness proved unattractive.
Then came Delany who broke the mould of Irish athletic stagnation and mediocrity and his exploits inspired a generation.
Apart from his Olympic 1500m title in 1956, Delany also assembled one of the finest winning streaks in athletics history as he recorded 40 successive indoor victories in the USA between March 1955 and March 1959.
The unbeaten streak included 33 successive Mile victories. He was also the first Irish athlete to clock a sub-4 minute Mile.
Continue reading at: irishexaminer.com