Who was the Greatest Athlete of All-Time?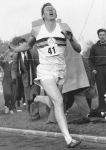 August 14, 2013
Shaun White's versatility, Bo Jackson's phenomenal speed, Geronimo's nimbleness, Bannister's Mile moment and more
From The Atlantic
Gay Talese, writer
Boxing is the most physically demanding of athletic disciplines. No other athletes are so confronted with the physical demands, the heart, the endurance, the perseverance and the confidence of winning prizefighters. So Muhammad Ali is my guy.
Twyla Tharp, dancer and choreographer
Muhammad Ali: courage, prowess, dignity.
Benjamin Cheever, author, Strides: Running Through History with an Unlikely Athlete
Before Roger Bannister ran through spitting rain on May 6, 1954, no man could run a Mile in less than four minutes.
Kareem Abdul-Jabbar, former NBA player
I don't think I'll see a performance like Bo Jackson's again in my lifetime. One year, he scored 32 home runs as an All-Star left fielder for the Kansas City Royals before finishing out the football season with the Los Angeles Raiders. The next year, he was selected as the Pro Bowl running back for the American Conference.
Al Michaels, play-by-play voice of NBC's Sunday Night Football
It's easy to overlook Jim Thorpe, because his career predated the advent of television. Thus, a man who would have been an almost nightly staple on SportsCenter—who was gifted enough to win Olympic gold medals and play professional football and baseball—can be appreciated only through the written word.
Continue reading at: www.theatlantic.com