Why Is Jakob Ingebrigtsen So Good?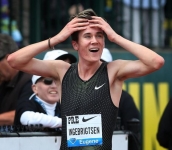 October 02, 2018
Teen phenom from Norway became a "professional" runner as a child. Is that a recipe for future success?
By Martin Fritz Huber, Outside
There was no major international championship during the 2018 outdoor track & field season, but there was still a doozy of a story: a 17-year-old Norwegian was making all the old guys look, well, old. In August, Jakob Ingebrigtsen won both the 1500 and 5000 meter events at the European Championships. That's two European titles for a guy who isn't old enough to drive in his home country.
Just in case you're tempted to think that the Nordic wunderkind might only be good by European standards: Ingebrigtsen's personal best in the 1500 is 3:31.18. The NCAA men's record for the same event is 3:35.01. In other words, despite being younger than most incoming college freshmen, Ingebrigtsen has already run almost 4 seconds faster than the fastest time ever run in the world's most competitive collegiate sports league. How does one account for such meteoric talent?
At the risk of stating the obvious, there's no doubt that Ingebrigtsen is blessed with that elusive "sports gene." Jakob has two older brothers, Henrik (27) and Filip (25), both of whom are world class runners and former European champions. But neither of the elder Ingebrigtsens were as freakishly precocious as their younger brother.For example, last year, at age 16, Jakob became the youngest-ever sub-4 minute Miler. Two years earlier, he set a world record for 14-year-olds in the 1500 meters.
In an interview at Euros, Ingebrigtsen provided some insight into his early success: "I've been a professional runner since I was eight, nine, ten years old," Ingebrigtsen told the IAAF. "I've been training, dedicated and following a good structure—the same as my brothers—from an early age."
You read that right. By his own account, Jakob Ingebrigtsen has already been a "professional" runner for about a decade. It seems to be paying off.
"Jakob has been training at a serious level since he was age nine, which isn't any different than someone like Michael Phelps," says Tom "Tinman" Schwartz, a running coach with a history of developing young talent. (Schwartz's most recent protégé was Drew Hunter, who holds the national high school record for the indoor Mile). Schwartz suggested that Ingebrigtsen's most unique asset was having two pro runners as older siblings. All three Ingebrigtsen brothers are coached by their father, Gjert Ingebrigtsen, who had no background in track and field (either as an athlete or a coach) when his sons took an interest in the sport, but had accrued plenty of coaching practice by the time he got to Jakob.
Continue reading at: outsideonline.com