Why running the Mile is still the perfect distance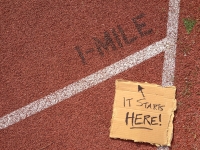 December 15, 2017
It's interesting how the Mile has always stood the test of time, still embraced worldwide, an anomaly alongside the standard Olympic distances.
By Sonia O'Sullivan for The Irish Times
There's really only one good way to get warm in this weather, and that's to go for a run.
Last Monday I woke up early, still buzzing from the Coronas concert I had attended in the Olympia the night before, and knowing there were still sub-zero temperatures outside.
So I found myself nursing an espresso, answering emails, as I waited for daylight and my chance to run through the laneways leading to Seán Moore Park in Sandymount for a sunrise run along the seafront towards the Great South Wall.
It was a glorious morning, and one of those days that you feel like you are gliding along the footpaths, and racing through the park, until you catch a glimpse of reality as the Garmin beeps and announces your pace as each kilometer ticks by.
It was certainly cold, minus 4 degrees, and I had on just one thin layer of Lycra, a winter headband to keep my ears warm and gloves with my fingers pulled up into a fist to keep warm. It just about did the trick.
Continue reading at: irishtimes.com