Wightman upsets Ingebrigtsen for World 1500m gold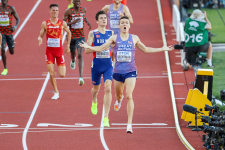 July 19, 2022
"Even when I was coming down the home straight I felt strong, but Jakob is a beast and I never knew if he was going to come past."
By Jess Whittington for World Athletics
Great Britain's Jake Wightman stunned the Olympic champion, the defending world champion and himself at the World Athletics Championships Oregon22 on Tuesday evening, running the race of his life to take the 1500m title.
At Hayward Field, winding up to a world leading PR of 3:29.23, the 28-year-old European and Commonwealth bronze medalist left race favorite Jakob Ingebrigtsen with no response as he surged down the home straight, eyes fixed firmly ahead. As the finish line neared, the Briton first raised his arms wide and then threw his hands to his head in disbelief, Norway's Olympic champion Ingebrigtsen following him home in 3:29.47 and Spain's Mohamed Katir coming through for bronze in 3:29.90.
"That's my son," came the voice over the loudspeaker, the race having been called by in-stadium announcer Geoff Wightman – father and coach of the winner, "and he's the world champion."
Left disappointed after a 10th-place finish at the Olympic Games in Tokyo, Jake Wightman went back to work. He focused on building his strength over the winter, returning to some cross country racing and doing over-distance work as he refocused on Oregon.
Achieving his aim of staying under the radar through the rounds, he took his place on the start line with Ingebrigtsen to his left and Katir to his right. Kenya's Abel Kipsang, who had the season's quickest time going into the race, went straight to the front and led from Ingebrigtsen and Kenya's defending champion Timothy Cheruiyot, with Wightman sitting in behind them. Ingebrigtsen, who broke the world indoor 1500m record with 3:30.60 in February, moved to the front with two laps to go, with Kipsang and Cheruiyot on his shoulder and Wightman tracking their every move.
At the bell it was Ingebrigtsen from Cheruiyot and Wightman, with Kipsang running wide on his shoulder. Judging the race to perfection, the Briton first surged past Cheruiyot, moving into the lead ahead of Ingebrigtsen with just over 200m to go.
As he left the bend, the anticipated kick from Ingebrigtsen never came. Glancing over his shoulder, the Norwegian looked like he knew he was beaten and settled for silver, followed by Katir and his Spanish teammate Mario Garcia, running a PR of 3:30.20 for fourth.
Wightman's British compatriot Josh Kerr – the Olympic 1500m bronze medalist – finished fifth in 3:30.60, just ahead of Cheruiyot (3:30.69) and Kipsang (3:31.21).
"It probably won't sink in until I have retired," said Wightman, who has run 1:44.18 for 800m and clocked a 3000m PR of 7:37.81 indoors in February. "It's mad. I had such a disappointing year in Tokyo last year. I don't think people realize how crushing it was to go in with such high expectations and come away hoping for a medal but ending up 10th."
His parents – both former elite marathon runners – were at Hayward Field to see him win, his father on the commentary mic and his mother, Susan, in the stands.
"Dad can be a bit of a robot on the mic sometimes," smiled Wightman junior, whose time in Oregon is the third-quickest in World Championships history. "Some say robot, some say professional. I hope he broke that down today. My mum was in tears, so someone was crying."
Reflecting on the race, he added: "The strength for me is that if I can get there with 200 meters to go, I will always make a move because it's how I feel best running. As soon as the opportunity was there to go past, I just wanted to be leading the bend. The only perk of having a good 800m PR in races like that is if you are still there with 200m to go, which I haven't managed to be in previous years.
"Even when I was coming down the home straight I felt strong, but Jakob is a beast and I never knew if he was going to come past."
But he didn't. Wightman's last lap was timed at 54.84, Ingebrigtsen's was 55.24. In Tokyo, the Norwegian clocked 54.42 for the final 400m.
"I was feeling good, but I couldn't keep up with Jake in the last 200," said Ingebrigtsen. "I'm owning it. I am very disappointed by not winning, but I'm very happy for him. He is a great runner."
He will now refocus on the 5000m, the heats for which take place on Thursday.
Continue reading at: worldathletics.org