Will Bernard Lagat Live Forever?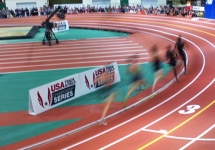 February 18, 2013
By Nicholas Thompson, The New Yorker
Most athletes peak at about the age of twenty-six or twenty-seven. For tennis players, it's a bit younger; for golfers, a bit older. Most everyone starts to fade by about thirty. There are, however, a few freaks. One of them pitches relief for the Yankees. Another of them won the 2 Mile at the Millrose Games, at the Armory, on Saturday night.
The runner is named Bernard Lagat, and he's thirty-eight. He completed 2 Miles, indoors, in 8 minutes and nine-and-a-half seconds. That's the fastest an American has ever run, and Lagat now holds national records in the 1500 meters, the Mile, the 3000 meters, the 2 Mile and the 5000 meters.
Continue reading at: newyorker.com