Will Geoghegan Sets Ivy League, Dartmouth Mile Records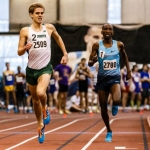 January 25, 2014
Teammate Abbey D'Agostino does the same with sub-4:30 Mile Friday night
From DartmouthSports.com
BOSTON - Senior Will Geoghegan broke the 20-year old Dartmouth indoor record for the Mile on Saturday afternoon at Boston University's John Thomas Terrier Invitational.
Geoghegan (photo, Doug Austin) ran 3 minutes 58.04 seconds in the second seeded heat of the day, breaking the old record of 4:02.26 set by Sam Wilbur in 1994 by more than four seconds. The time is also the fastest collegiate Mile in the nation this season, matching the feat set by his female counterpart and classmate Abbey D'Agostino (4:28.31) Friday night, giving Dartmouth the best male and female Milers in the country.
The performance also set a new Ivy League mark, eclipsing the previous record of 3:58.52 set by Columbia's Kyle Merber in 2010.
The Big Green's top distance runner benefited from the race's rabbit getting off to a great start. Geoghegan was seemingly the only runner to keep pace before the rabbit dropped off, allowing the senior to cruise to the record-setting win.
The only other Dartmouth student-athlete to break the 4-minute Mile in program history was Ben True, who has a 3:59.99 to his credit during the outdoor season.
More Dartmouth Sports at: www.dartmouthsports.com