Will Leer's Journey to Moscow Runs Through Southern California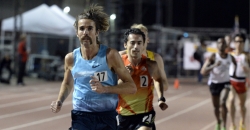 April 25, 2013
By Kevin Sully, Daily Relay
Most twenty-somethings who relocate to Los Angeles do it to chase a dream. They don't envision moving into their parents' home or being in bed before 10:00 p.m. Then again, most twenty somethings aren't elite athletes trying to revitalize their career.
For Will Leer, the decision was simple. After spending four years at Pomona College thirty miles east of Los Angeles, he romanticized returning to Southern California for days filled with surfing, coffee on the beach, training in beautiful weather, and relaxing with college friends.
Since turning professional in 2007, the 28 year old from Minnesota has always been surrounded by runners. First, with the Oregon Track Club in Eugene and then in Ann Arbor where he ran alongside Olympic silver medalist Nick Willis among others.
He has also always been on the cusp. Fourth in the 1500m at the 2008 Olympic Trials. Three times a national championship finalist outdoors. In the 1500m, where consistency is a rarity from race to race, let alone season to season, he has managed to become a mainstay. But in a sport that is measured in Olympic and outdoor World Championship teams made, he has yet to truly break through.
Continue reading at: dailyrelay.com