Willy Fink clocks DC's first sub-4 minute track Mile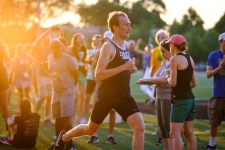 July 14, 2019
"It took me six months to accept the fact that I was a sub-4 Miler the first time, so this might take a while."
By John Riker, RunWashington.com
Willy Fink came into Saturday's DC Road Runners Track Championship on July 13 wanting to accomplish something great. He accomplished something monumental.
Competing in a heat with nine runners who had previously broken the coveted 4 minute Mile mark, Fink led wire-to-wire at DCs Dunbar High School and clocked the first sub-4 minute track Mile recorded on DC soil (3:58.84). Trevor Dunbar was runner-up in 4:01.30.
The race had its share of drama, however. Instead of the quick pace many spectators and athletes anticipated, the field started off conservatively and kept the audience in suspense as to whether the 4 minute standard would actually be broken.
With 600 to go, Fink changed gears and rode a blazing final lap to a new meet record and a place in the history books. His achievement was the highlight of an evening filled with photo finishes, meet records and no shortage of excitement.
"My plan was to relax for the first three laps, see how fast the race goes, just relax and save as much energy for the last lap as possible and go for it," Fink said. "And that's exactly what I did. I actually went a bit early at 600 meters to go, and it worked out well. I felt really good, I felt really strong even in the last 100 meters."
Fink, 25, who had set the meet record (4:03.70) last year in a deluge, had his sights set on breaking 4 minutes heading into the race. This year, he wouldn't be denied. The jubilant expression on Fink's face after completing the race, and the excitement shared by spectators lining the track infield, showed just how much the achievement meant.
Continue reading at: runwashington.com
NOTE: John Itati of Kenya ran 3:58.7 on the road at the Pennsylvania Avenue Mile, September 21, 2002.