58 years ago Carlsen created D-Y High School's Track Program with a Letter from Bannister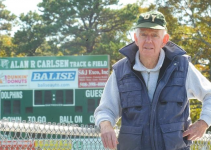 October 23, 2015
Carlsen to be honored with one-Mile alumni race; Bannister's letter promoting the benefits of track & field convinced the school committee to authorize the varsity track program.
By George Kostinas, Wicked Loyal
He is a legend at Dennis-Yarmouth High School.
A respected and beloved teacher and coach, he started the track and cross country programs in the 1950s and 1960s.
He was a mentor to many students, athletes and coaches and is remembered as a man who brought the best out of others.
On Friday Alan R. Carlsen will fire the starting pistol for an alumni one-Mile race in his honor at halftime of the D-Y-Falmouth football game at the track & field named for him.
"It is for any alumni runner who ran for Alan Carlsen. It is free. All you have to do is show up," said Doug Sherman, one of the organizers of the event.
Continue reading at: yarmouth.wickedloyal.com