With Husband's Support, Brenda Martinez Takes Olympic Road Less Traveled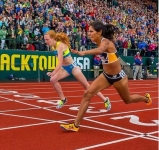 July 26, 2016
"Ever since then we reached out to Dr. Vigil, and him just giving us a hand, we didn't take it for granted, and it just changed everything in how we view things."
By Jonathan Crowl, ThePostGame.com
You call Carlos Handler in the middle of the afternoon. He's happy to talk -- but he and his wife, track star Brenda Martinez, are headed out the door to pick up some food for their four dogs. Can you call back in an hour?
It's not the sort of sound byte you'd expect about an Olympian. Amid the training required to compete with the best in the world, who has the time for daily household chores?
But away from the spotlights shined on major international sports, this is the way of life for many Olympic athletes chasing their dreams while trying to keep their lives intact. And anyways, by now, Carlos and Brenda are used to doing things on their own.
This is how it's always been for the husband-and-wife duo: Brenda doing the running, Carlos doing the training and cooking, the two of them hefting their own luggage through life. In America, there are easier paths to becoming an Olympic athlete. But when those doors were slammed in Brenda's face, the two of them turned to one another and vowed to do it on their own.
In retrospect, it was the best thing that could have happened to them.
Continue reading at: www.thepostgame.com