World Championships Medalists Lead Fields for NYRR Fifth Avenue Mile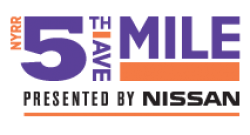 September 12, 2013
Men's and women's fields will also include Olympians Bernard Lagat, Leo Manzano, Evan Jager, Shannon Rowbury and Morgan Uceny; Open prize purse $30,000 with $5000 for each race champion at 33rd edition
From NYRR
NEW YORK -- More than 15 Olympians and World Championships contestants will compete at the NYRR Fifth Avenue Mile presented by Nissan on Sunday, September 22, it was announced today by New York Road Runners president and CEO Mary Wittenberg. Recent World Championships silver medalists Jenny Simpson and Nick Symmonds will headline the men's and women's fields, respectively. Other Olympians scheduled to race in the 33rd edition of America's most famous road Mile include Bernard Lagat, Leo Manzano, Evan Jager, Shannon Rowbury and Morgan Uceny.
Additional world class entrants from around the globe, and some of their accomplishments, are listed below.
Athlete Backgrounds and Notable Performances
Simpson, 27, of Boulder, CO, won the 2011 Fifth Avenue Mile and she won the 2011 World Championships 1500 meters in Daegu, South Korea, and followed that up with the silver in the Moscow World Championships last month. She is a seven-time USA champion and holds the U.S. record in the 3000m steeplechase.
Symmonds, 29, of Eugene, OR, is the 2013 World Championships 800 meter silver medalist and a five-time USA 800 meter champion. He ran a personal record 1500 meters of 3:34.55 this year.
Lagat, 38, of Tucson, AZ, is no stranger to the NYRR Fifth Avenue Mile, having finished fourth in 2009, second in 2008, 2010, and 2012, and first in 2011. He is a five-time world champion and two-time Olympic medalist. At the 2013 Millrose Games, Lagat secured his seventh national record when he won the 2 Mile in 8:09.49.
Manzano, 29, of Austin, TX, is a two-time Olympian and the 2012 silver medalist at 1500 meters. He placed third in last year's Fifth Avenue Mile behind Matthew Centrowitz and Lagat, clocking 3:53.1.
Continue reading at: www.nyrr.org